Another NaNoWriMo is in the books (ha) and I'm catching up with everything, so this is a long post  Here's what we have today.  First up, a friendly reminder:
A reminder, 'ex-gay' isn't a thing.  You can't pray away the gay.  Although this man thinks he did.
A South African judge won't let a gay couple adopt since they aren't out, it would be damaging to the child.
Just to put in perspective how insane and bad things are, the President's World AIDS Day proclamation didn't mention gay people  Let that sink in.
An amazing comic from Surviving The World about the holiday wars.
And of course: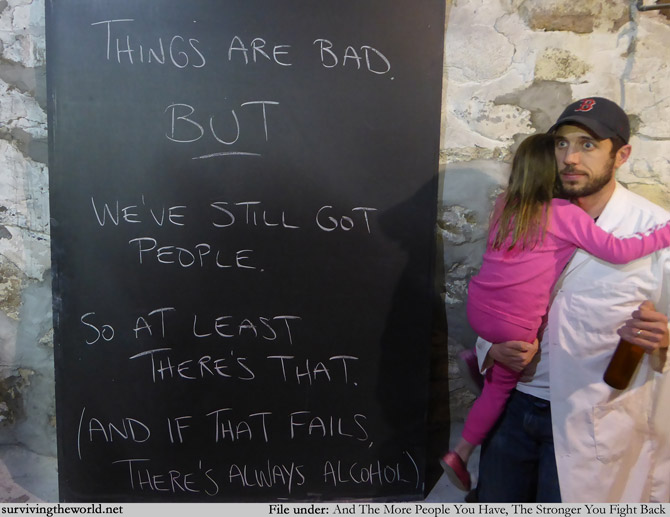 Sarah Silverman has a great response to the many, many famous men being outed as sexual predators.  Give it a read.
In a big step in the right direction, a judge has paved the way for sexual orientation to (finally) be a protected class in Pennsylvania.  For over a decade, legislation hasn't been able to make it through Harrisburg, so this would be a really good step forward.
Painting restoration is amazing to watch!  It's pretty much like magic!
Steve Grand has a new music video.  It's a good song, the video is a bit forgettable:
Pinky and the Brain meets "Silence of the Lambs" is hysterical.
Men with muscles and money are more attractive.  A study was done about this.  That study was a waste of money.
Very important news!  Disney's Star Tours will stop mixing eras up during the program.  A wrong has finally been righted!
Speaking of Star Wars, here's a recap:
The trailer for season 3 of The Magicians has me very excited!
Now you can make the English Triffle from Friends that doesn't taste disgusting.
Have you set up your gaytivity scene yet?
In case you forgot, OK Go is amazing:
This year, the GayVN awards (for porn, apparently) have put all non-white actors into an 'ethnic' category (and keeping them out of other categories).  And thankfully, some actors are speaking out and taking them to task for it.
A second actor speaks up here.
Just in case you're one of the few who haven't seen it, the new Avenger's trailer:
For all your mass shooting 'thoughts and prayers' needs, just fill in the blanks.
Justin Trudeau gave an amazing speech apologizing to the Canadian queer community for how they were treated in the past by the government.
And finally, the Supreme Court will hear a huge case about business' right to discriminate.  I'm really nervous about it, but hoping Kennedy pulls out a win:
Have a great one!